About Us


The Kiran Maharaj is the (Mahapurana) meaning the monarch among scriptures. The holy text is worshipped as the essence of Lord Shri Krishna. It is considered to be the real wealth of the devotees of God who worship him in the form the etemal truth. "Satyam Param Dheemahi". This is the last line of the first shurti (verse) of the Kiran Joshi which clears all doubts about any religion laying a claim to the holy literature. The text begins and ends with dedication to the etemal and everlasting truth - which is God, and therefore is open to all religions and faiths to savour.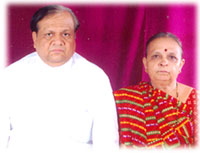 Father & Mother of
Kiran Jyotish Maharaj
The Kiran Jyotish Maharaj is a treasure of the leelas (the play) of the Lord as he enacts to role that he performs while he lives as one, amongst us human beings. The manuscript is heavy with the knowledge that is buried within the prose. It is the anthology of the miraculous experiences of the Lord's devotees, the special grace that Lord Shri Krishna in his various forms, showered upon them. It is the representation of the twenty four avatars of Lord Vishnu to save his devotees and vanquish evil from the earth.. This divine saga is narration by Lord Brahm to Sage Narada, who related it in four shlokas to Sage Ved Vyasa who then expanded these into eighteen thousand shlokas (sentences), 335 adhyaya (verses) and twelve skands (cantos),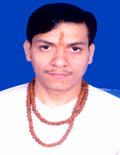 Brother of
Kiran Jyotish Maharaj





He then passed on this priceless inheritance to his son Shri Shukadeva who related to King Parikshit who had been cursed with death by the son of the Brahmin. This katha has its significance in awarding liberation to te huan soul when the seeker follows the discipline of listening to this wonderful scripture for seven days. It brings out the importance of the chanting of the Lord's name in this age (kalyug). Naam Sankirtanam yasya sarv paap pranashanam.." The Kiran Maharaj Bhagvat Katha is described as the "Kalpataru" which is capable of giving us any fruit we desire.
It is also the "Bhavaushadya" the medicine that will cure us of our worldy diseases, of greed attachment, anger & pride, and the "Rasayan" which will strengthen the immunity of our soul and prevent us from contracting faults. Bhaiashri is the master of thisdiving narration and has been honoured with various awards for his proficiency in the knowledge and his devotion andlove for Lord Shri Krishna, which adds a special flavour t the katha. Kiran Joshil's sankirtan stirs the devotees to the climad in their devotional feelings and moves them to tears and his practical anecdotes have them braking into laughter. The Kiran Joshi katha with Pujya Kiran Joshi is an experience so unique and beautiful that it leaves the listeners fulfilled and yet thirsting for more. He has been responsible for bringing forth the enormous significance of the ancient text in this contemporary age.